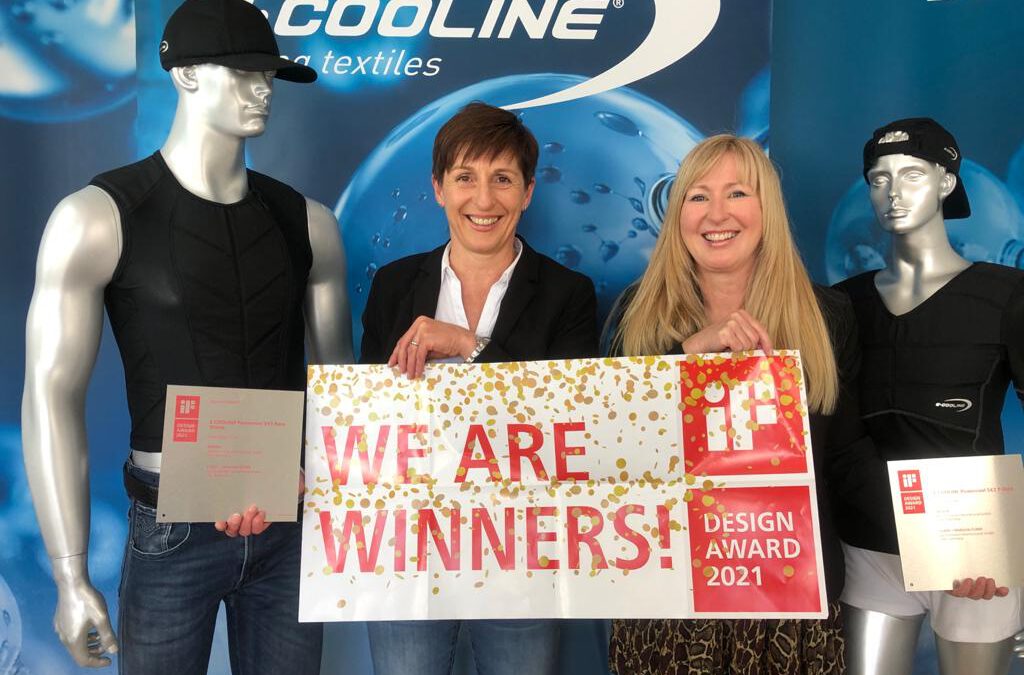 Ulm, 15.04.2021– pervormance international has won this year's iF DESIGN AWARD with 2 products and is therefore one of the award winners of the worldwide renowned design label. The products E.COOLINE Powercool SX3 Race Vest and the E.COOLINE Powercool SX3 T-Shirt were awarded in the discipline Product, category 1.23 Textiles / Wall / Floor. The iF DESIGN AWARD is presented once a year by the world's oldest independent design institution, iF International Forum Design GmbH in Hanover.
High accolade for outstanding design combined with smart technology: pervormance international has been awarded no less than two iF DESIGN AWARDS for actively cooling clothing from the E.COOLINE brand. The Powercool SX3 T-shirt and the Powercool SX3 Race vest combine excellent design, perfect workmanship with a skilful mix of materials and top-class GreenTech. An overall combination that symbolizes the zeitgeist of aesthetics, high-tech, health and environmental awareness and heralds a new dimension of individual body cooling in times of climate change. The trendsetter with the cool, modern look meets the highest aesthetic demands and at the same time convinces with a patented technology that generates up to 660 watts of cooling power.
The number of applicants was large: the jurors had to award the coveted seal of approval from among almost 10,000 submissions from 52 countries.  "These two iF DESIGN Awards make us proud, because with E.COOLINE we set new standards in the fields of smart textiles and environmentally conscious air conditioning. They are once again a great confirmation of our claim to always combine high-tech with the aesthetic design of a product, quality and high customer benefit," says Gabriele Renner, CEO of pervormance international.
For more information on the two award-winning E.COOLINE products, see "Winners" in the iF WORLD DESIGN GUIDE