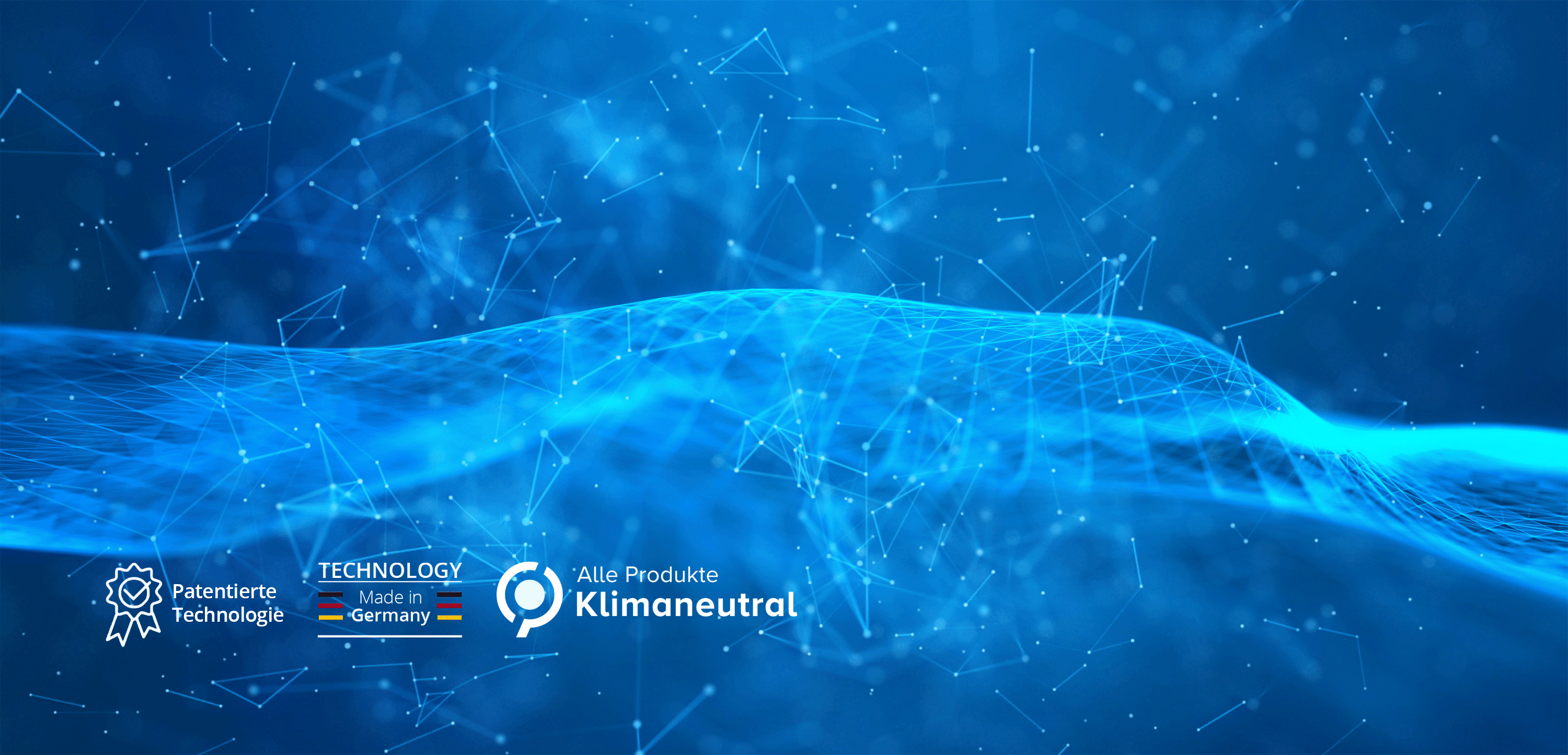 HIGH-END COOLING FOR THE HIGHEST DEMANDS
High quality, brilliant 3D technology, natural refrigerants such as water and air and a high-quality finish in a chic design: COOLINE SX3 offers everything that top-class sustainable air conditioning needs.
The COOLINE SX3 high-tech fleece has the property of binding large quantities of water inside within seconds and storing it firmly directly on the smart 3D fibers. The advantage: an enormously large surface area of water molecules is created, which can evaporate immediately in a highly active manner and cool effectively. No water droplets or condensation form under pressure – even if you apply extreme pressure.
Processed in trendy designs, the material is quickly in use and dry to the outside. What's more, a natural antibacterial finish with DEOXX fresh keeps you not only cool, but also hygienically clean. These are precisely the advantages that set COOLINE SX3 apart from all other materials available on the market. For a wonderfully cool feeling of freshness.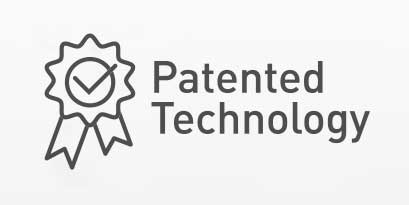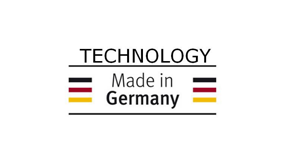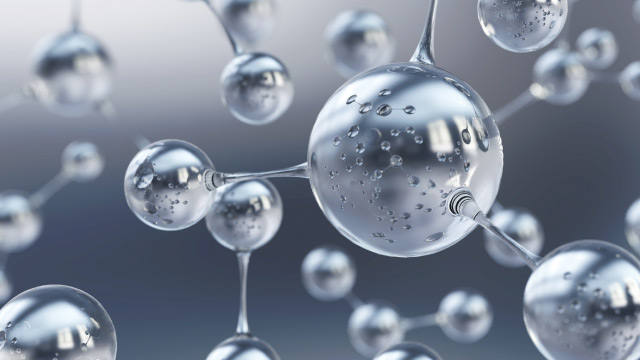 AIR CONDITIONING TECHNOLOGY WITH SMART FIBERS
The potential applications of the 3D-COOL material are immense and have already proven successful in many areas in recent years. Integrated into clothing, the high-tech fleece can be used like an air conditioner for dressing. Simple, effective and climate-neutral – with a feel-good factor.
Thanks to its excellent performance, the material is used by leading companies in the field of health protection in heat-stressed workplaces, in clinics and by doctors in neurological areas such as MS, but also in leisure and sports. The COOLINE SX3 material now also plays a leading role in weight loss.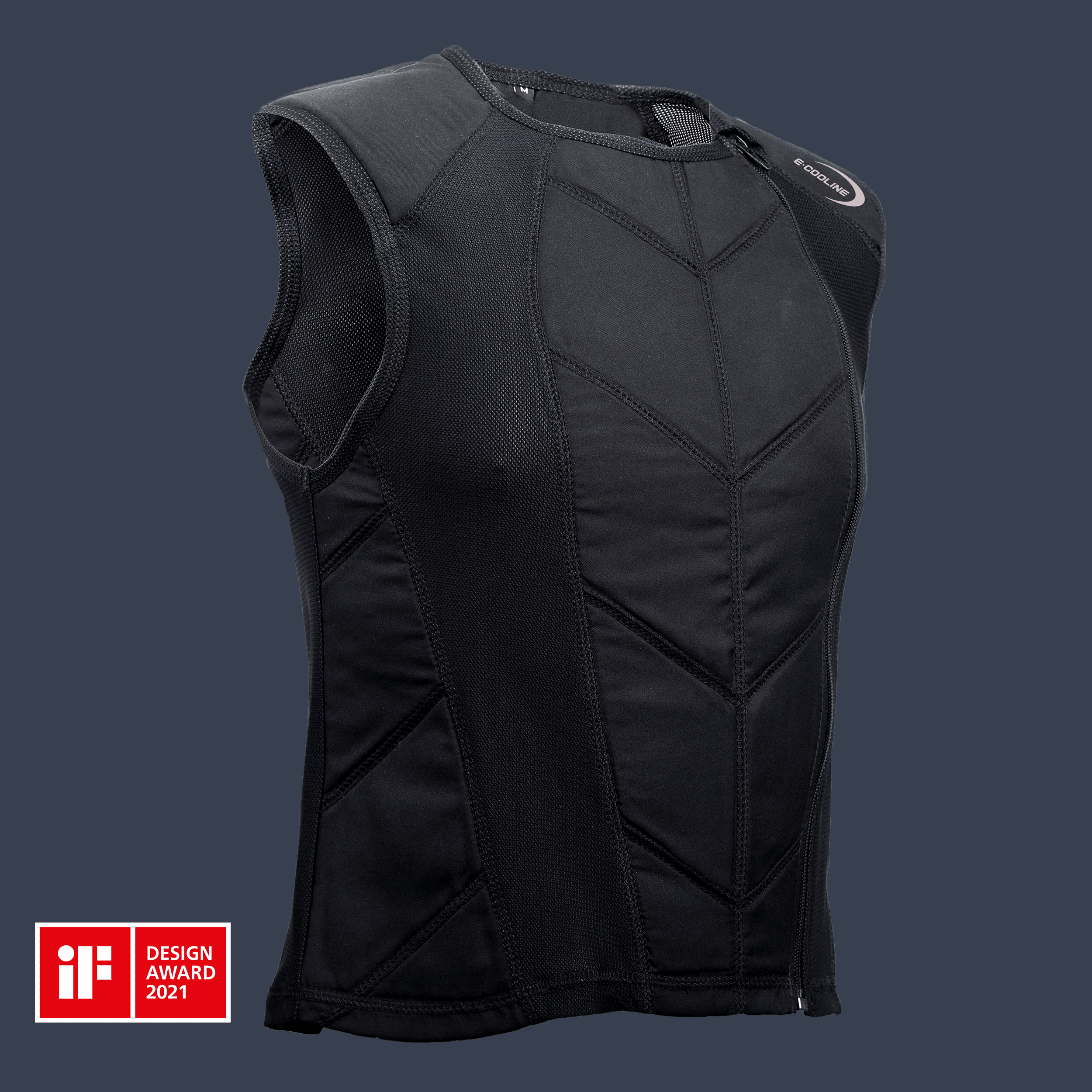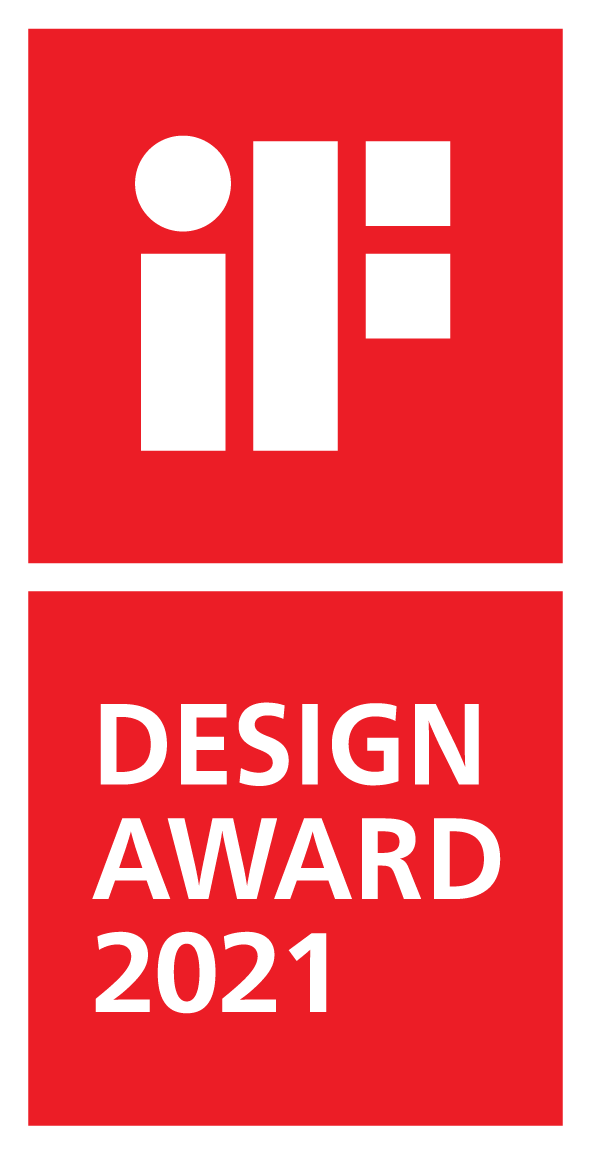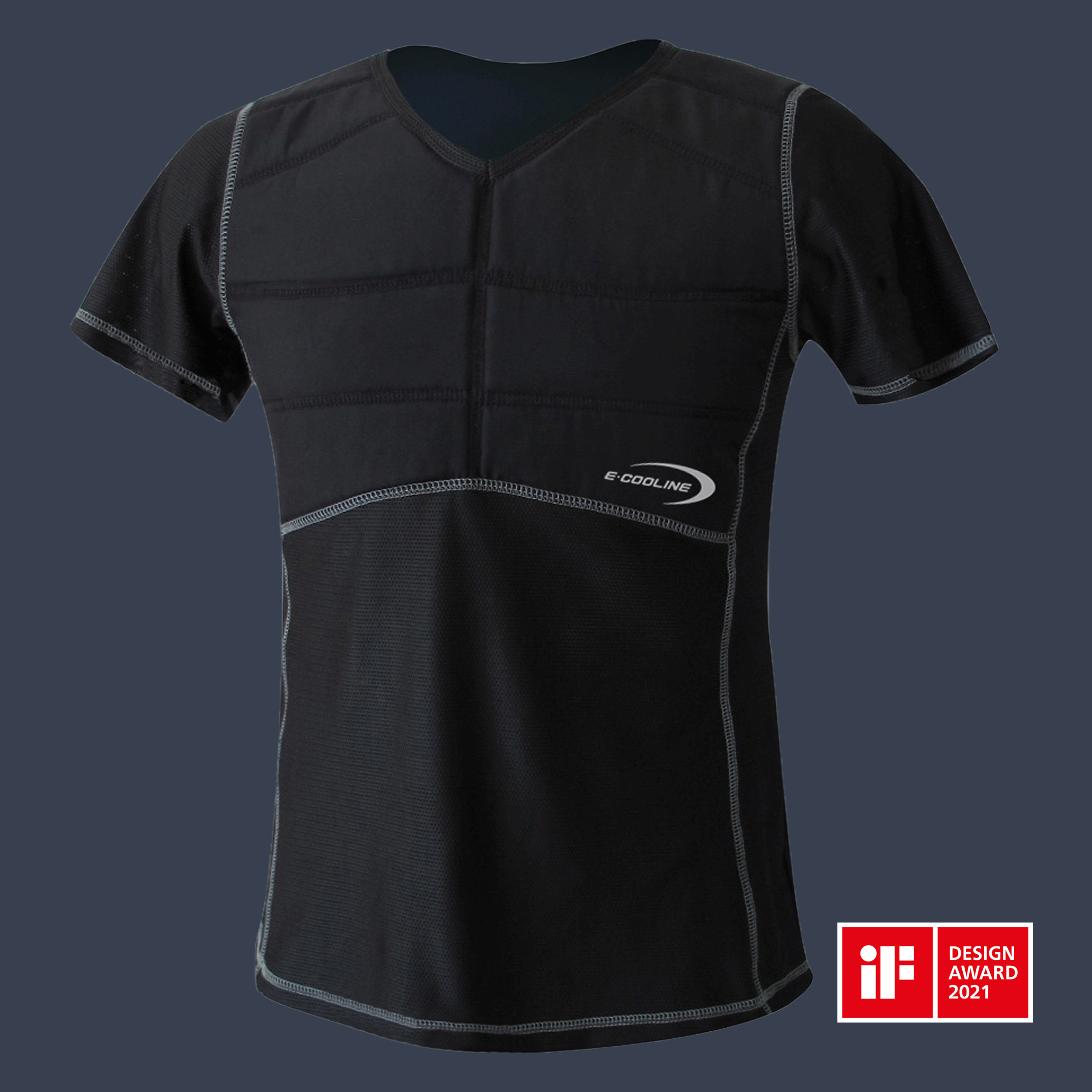 READY FOR USE IN SECONDS
E.COOLINE products are activated in seconds with water, dry quickly and are ready to use immediately with 660 Watth/l cooling capacity.
20 HOURS COOL
COOLINE SX3 material stores enough water to keep you dry and cool throughout the day.
WASHABLE
E.COOLINE products are the only washable cooling functional textiles with DEOXX fresh. Simply by hand or washing machine at 30°C.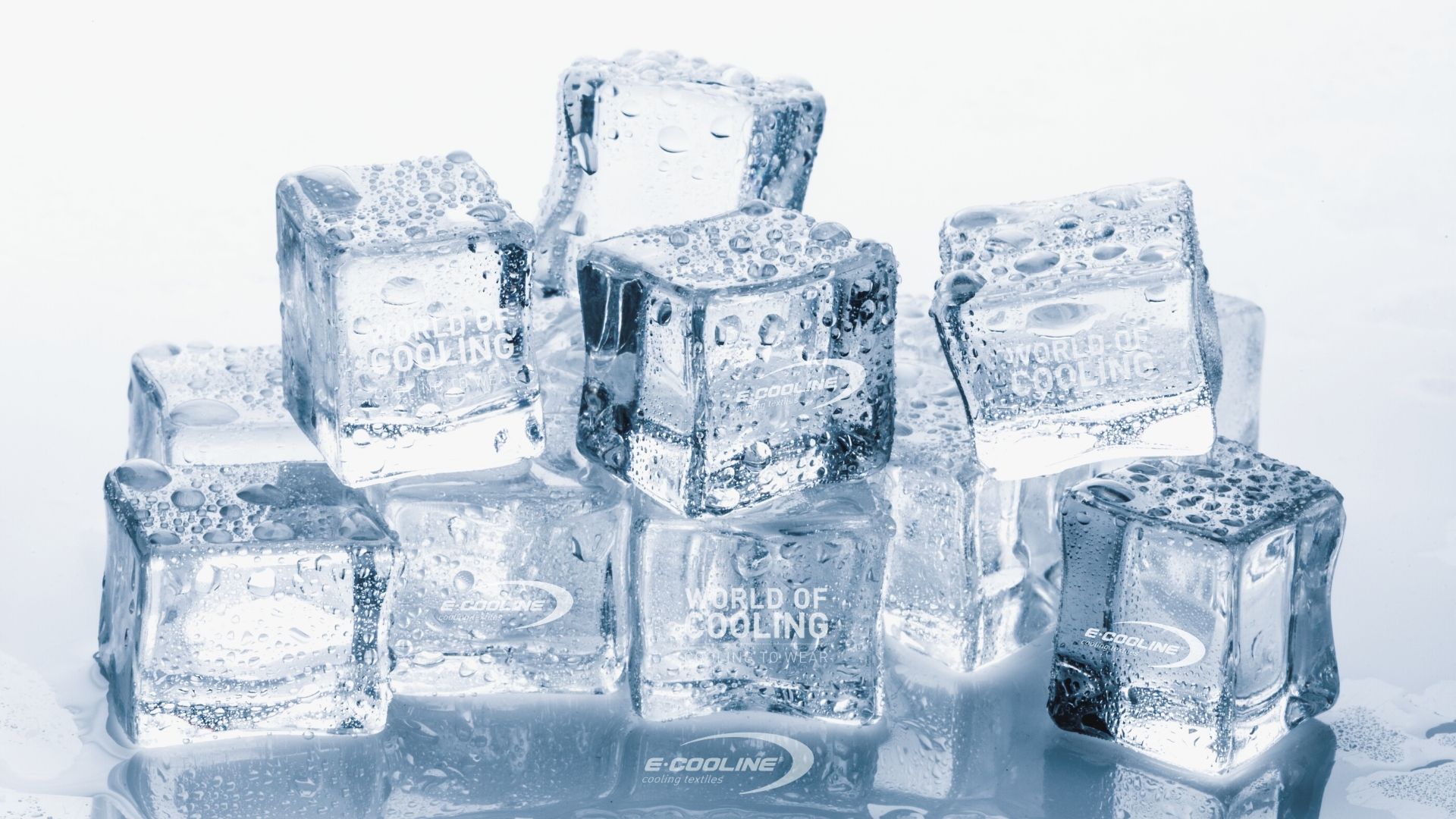 INDIVIDUAL ADJUSTMENT TO THE AMBIENT TEMPERATURE
The unique and patented 3D technology makes it possible: each product with COOLINE SX3 fleece can be adjusted as needed by each user himself. In over 90% of cases, E.COOLINE works according to the 3D COOL- evaporation principle. Of course, if you need more cooling, you can always boost the system as needed.
The big advantage: You cool effectively and sustainably. We use only natural refrigerants, such as water and air. Plus, the technology is fast, easy, practical and mobile for use anywhere. With the cool designs of the E.COOLINE and SlimCOOL collections, you'll look good too.

THE HYBRID TECHNOLOGY FROM COOLINE
A COOLING TECHNOLOGY FOR ALL HEAT SITUATIONS
At high temperatures and up to 80-90% humidity
3D COOL TECHNOLOGY
Due to the normal heat development of our body, the water molecules bound on the fibers of the 3D-COOL material evaporate so effectively that a pleasant temperature of 16 – 20°C with a cooling capacity of up to 660 Watt/l is thus established.
Due to the physical principle of evaporative cooling, COOLINE thus cools more strongly at higher temperatures and less strongly at lower temperatures. This always produces an optimum cooling result – automatically. And the beauty of it: you don't need an external energy source, you're free to move around – you decide where and when you cool. Whether indoors or outdoors. This gives you a self-sufficient air conditioning system that can be used quickly and easily anywhere.
In 90% aller Anwendungen kühlt die 3D-COOL Technologie mit reiner Verdunstungskälte effektiv mit bis zu 660 Wh den Körper bis zu 12°C. Sie brauchen werder Kühlschrank noch Eisschrank. Sparen Sie damit 90% CO2!
Only in extreme heat or humidity above 90%
3D COOL BOOSTER
But E.COOLINE can do even more. While you have to wait for hours in extreme conditions with ice or PCM material, the 3D surface of COOLINE can store cold capacity from 0 – 10°C in record time of 5-20 minutes (depending on the product) and release it effectively in addition to evaporative cooling.
By using simple mobile cooler bags and ice packs or crushed ice, E.COOLINE is thus effective even in extreme temperatures and over 90% humidity or airtight protective clothing. Within minutes, the product is always ready for use. SlimCOOL products also benefit from this. In 90% of cases, they don't even need the Cool Booster.
The 3D technology alone with evaporative cooling is completely sufficient. The advantage: You have 1 product for all cases.
In 90% of all applications, the 3D-COOL technology with pure evaporative cooling effectively cools the body up to 12°C with up to 660 Wh. You need neither refrigerator nor freezer. Save 90% CO2!
Even in extreme conditions (over 90% humidity) COOLINE SX3 works perfectly. In these cases (only approx. 10%), you only need a simple cooling bag with cold packs or ice bags for pre-cooling.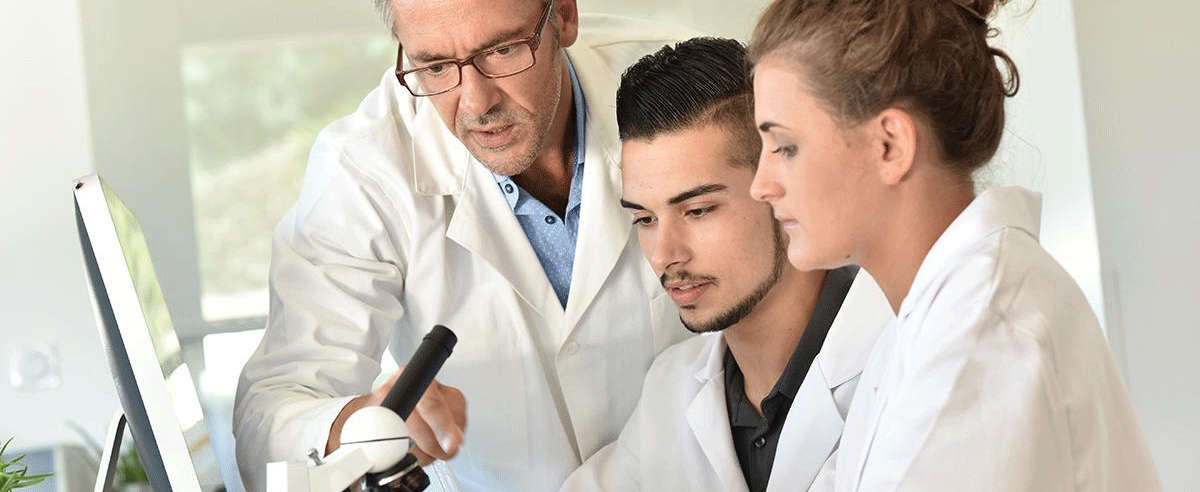 PERVORMANCE MEETS SCIENCE
FEEL THE FUTURE: As a pioneer in climate-friendly cooling clothing, we analyze our products in scientific studies, undergo tests by recognized institutes and conduct broad application observations.
In close cooperation with the opinion leaders and universities in the field of cooling, we create new trends and always receive up-to-date information, which we are happy to pass on to our customers. We are also constantly developing our products. For you, the climate and your health!