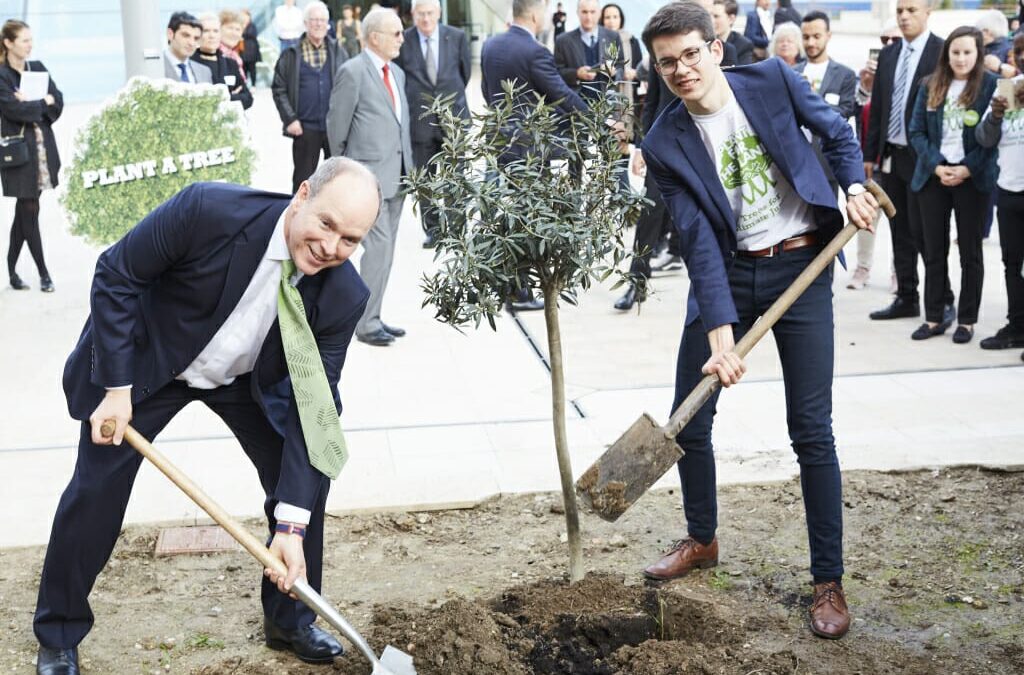 Gabriele Renner and Sabine Stein were received in Monaco by Prince Albert and "Plant for the Planet" founder Felix Finkbeiner. The Ulm-based entrepreneurs, whose E.COOLINE functional cooling textiles are in demand worldwide by companies such as Daimler and Thyssen Krupp for occupational health and safety, in the health sector and by top international athletes, support the environmental organization Plant-for-the-Planet, whose patron is Prince Albert II. The event was also attended by Professor Franz Josef Radermacher from Ulm, representing the Club of Rome, "Der Bergdoktor" actor Hans Sigl and entrepreneurs Alfred Ritter of Ritter Sport and Michael Durach of Develey, as well as representatives of environmental organizations such as the WWF.
"We have already been the world's first climate-neutral textile company since 2013, and in Monaco we presented our contribution of 246,920 kilograms of CO2 per year converted into trees for the Trillion Trees campaign of the Plant-for-the-Planet organization to Prince Albert of Monaco, the organization's patron," Gabriele Renner reports from the reception in the Principality. So far, the compensation from the Ulm-based company has gone to a forest conservation project in Papua New Guinea. "We don't just want to protect people against heat stress, we also want to sustainably secure the future of our children and preserve the environment to prevent further heat problems caused by global warming," explains Sabine Stein. For this reason, the cooling functional textiles are also produced exclusively in Germany and Europe. "We can thus always control how our products are manufactured. It does cost a little more. But it is worth it to us."
The company also joined the United Nations Global Compact and the Women's Empowerment program in 2013 to strengthen women's rights around the world, and the two female entrepreneurs were appointed to the "Senate of Business" back in 2011. "Here we are committed to responsible business practices, sustainability and the Senate's World Forest Climate Initiative," emphasizes Gabriele Renner, whose functional clothing works like an "air conditioner to put on", cooling the body up to 12°C while saving at least 90% CO2 compared to air conditioning. This helps, for example, to protect people with multiple sclerosis and Parkinson's disease or cardiovascular diseases, but also firefighters or construction workers, as well as athletes, from heat problems. More than 100,000 textiles with the high-tech functional cooling system have already been sold worldwide. "This is a completely new market that we are developing here. Until now, there was no alternative to energy-intensive air conditioning systems, and outdoors – compared to our products – they don't even work," Sabine Stein elaborates. In 2011, this was also worth the award of the innovation prize "Land of Ideas" to the Federal President, which was then presented to the entrepreneurs by Minister President Winfried Kretschmann in Stuttgart Castle. In the meantime, cooling vests for dogs and cooling blankets for horses are also in development. "Other exciting projects in the health sector are about to be launched," announces Gabriele Renner.